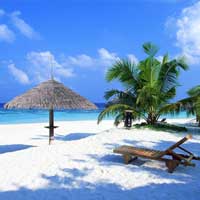 Choose from the seven Union Territories of India for memorable holidays. Each has its own unique and wonderful attractions to offer.
Andaman and Nicobar Islands
Travel to the enchanting land of Andaman and Nicobar Islands to have a holiday experience of a lifetime. Its unparalleled natural beauty, breathtakingly beautiful beaches with emerald waters and white sand, colourful coral reefs, excellent diving facilities and many other adventure sports facilities like snorkeling, boating, cruises, parasailing, windsurfing etc will adorn your holidays with beauty, adventure and relaxation. It consists of around 300 islands but only around 12 are open to tourists. Other major attractions of Andaman and Nicobar Islands are Samudrika Marine Museum, Radhanagar Beach, Havelock Island, Cellular Jail and Limestone Caves.
Chandigarh
One of the best cities of India, Chandigarh serves as the capital of the states Haryana and Punjab. It is popularly known as the Green city of India and a well planned city. Rock Garden is its major attraction as this garden is creatively made up of wastes like glasses, bangles, sinks, ceramic pots, tiles, electrical waste, bottles etc. It also has man-made waterfalls and many sculptures made with the wastes. Sukhna Lake is another worth a visit attraction.
Delhi
Delhi is one place which is loved by every kind of traveler. It is a capital city of India boasting of rich culture, great monuments, interesting museums, gardens, adventure hubs, entertainment zones, art galleries, colourful markets, wide variety of delicious cuisines and much more.  It is divided into New Delhi and Old Delhi, each having its own charm. It is truly a paradise for food lovers. Some of the major attractions of Delhi are Red Fort, Humayun's Tomb, Lotus Temple, Qutub Minar, India Gate and many more.
Dadra and Nagar Haveli
It is located between Gujarat and Maharashtra. It is blessed with scenic beauty and many other attractions like Lake Garden Vanganga, lush green forests, rich flora and fauna, rivers and mountains. Silvassa is the capital of Dadra and Nagar Haveli.
Daman and Diu
Ideally located on the west coast of India, Daman and Diu has amazing culture which is a mix of Indian and Portuguese. Daman is the capital city. The pristine natural beauty, oodles of tranquility, lovely beaches and Portuguese churches are the striking attractions of Daman and Diu.
Lakshadweep
Lakshadweep is a serene and arresting tourist destination located off the coast of Kerala. It is an archipelago of 36 atolls and coral reefs. Its amazing beaches lined with coconut trees, lagoons, coral reefs and adventure sports like snorkeling, fishing, diving and kayaking will surely win your heart. Kavaratti is the capital of Lakshadweep.
Pondicherry
It is a mesmerizing city reflecting a perfect blend of South India and French culture. Unspoiled beaches, French colonial heritage, Auroville city (a universal town where people from different nationalities live in harmony), Sri Aurobindo Ashram are the renowned attractions of Pondicherry.